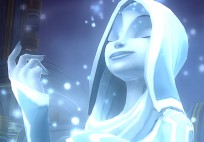 Drusera, a.k.a. Genesis Prime, is an Eldan "god" and the ultimate goal of the Nexus Project, a being of unparalleled perfection. She is composed of six Eldan, broken down and combined via the infusion of vast amounts of primal power.
Drusera is named after the oldest, most benevolent, and most powerful gods of the Eldan pantheon for a reason: she has the power of creation at her fingertips, capable of fabricating anything she desires with the power of her thoughts. Though she has been shown to be able to fabricate things into being from sheer force of will, she prefers building from what already exists as it is easier.
DATACUBE ENTRY

Oh! I am absolutely overcome with joy! Today, with Elyona's help and encouragement, I was able to create a living, breathing organism! It was so exhilarating! I closed my eyes, envisioned the entire creature in my mind, and then, when I opened my eyes…there it was, standing in front of me! It was the most wondrous thing I have ever seen, a beautiful bird with shining golden feathers. Maybe the Eldan are right. Maybe I really can do anything…

DATACUBE ENTRY

My Eldan creators have asked me to record some of my thoughts during my training, in order to better evaluate my overall development. They have explained very clearly just how important I am to them, and so I am happy to do this.

Today was incredible! For the first time, I was allowed on the surface of the planet, and saw the endless expanse of the sky. It was breathtaking. And then, with Elyona's help, I was able to manifest a tree using only the power of my mind! It was only a sapling, just a small and fragile thing, but Elyona said to me that it represented the greatest event in all of recorded time. I was so proud! I can't wait to continue my studies.
The Entity, on the other hand, appears to be the opposite of Drusera. It is a being of cruelty, violence, and destruction. The Eldan grew so fearful of it that they attempted to destroy it, but ultimately failed to do so. The Entity also appears to be able to control The Strain.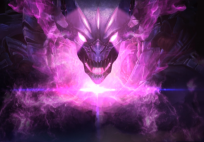 DATACUBE ENTRY
Subject has been sedated. Vital signs are stable. Prepare for termination protocols. Initiating Primal Disintegrator in three, two, one. What? Oh no! Subject has broken loose! Defense perimeter breached! Arrrggghh! No, please! Nooooo!
Current knowledge
Edit
How are these two connected? There are currently many theories, but what is known for certain?
1. A race existed before the Eldan on Nexus, the creators of the megadroids. Something befell them, and the megadroids were set to guard the planet and keep it quarantined.
DATACUBE ENTRY
The sight of these machines inevitably makes me melancholy. Bold and courageous explorers, they decided to brave the dark reaches of the unknown and were destroyed by what they found when they arrived there. Were their dreams and desires so very different from our own? And how profound their horror when they realized the extent of their mistake?
2. Genesis Prime, aka Drusera, was the penultimate creation of the Eldan. She was to be their finest creation.
3. Six Eldan were chosen to have their essences combined to create Genesis Prime: Nazrek, Zarkonis, Bathior, Aviel, Ionis, and Jariel.
DATACUBE ENTRY
The six have now been chosen. Nazrek, Zarkonis, Bathior, Aviel, Ionis and myself. My decision to be included in this group has been met with some bewilderment – however subtle – by the Orders, and I have heard whispers that I have only done so to indulge some inherent sense of self-importance. Of course, this is nothing of the sort. If the six are to represent our greatest minds, then it is only logical that I, the bold leader and visionary of the Nexus Project, would be included among them.

The time is now at hand. Soon, the six shall become one, and the universe shall witness the coming of a new god.
4. The plans for the Resonator were given to Vorion by an unknown party. Vorion has refused to reveal who or what this source is, but the technology is far beyond the Eldan.
5. Despite this, plans for the Resonator's construction proceeded.
6. Nazrek, the most sociopathic and narcissistic member of the Eldan, tinkered with the Resonator prior to its use, using knowledge gained from a mysterious ally.

DATACUBE ENTRY
It is done. With the help of my knowledgeable ally, I have made the necessary adjustments to the Protoplasmic Resonator. I have been assured that Vorion will not notice until after the process is complete, and by then, of course, it will no longer matter.

Will the others understand? To be honest, I couldn't possibly care less. The stakes of this game were too high. Did anyone truly expect me to sit back and play by the rules?
7. Genesis Prime was created and, either simultaneously or soon thereafter, so was The Entity.
8. Vorion and (apparently) five other scientists created The Strain (Bio-phage).

Theories
Edit
The motivations behind Nazrek's tampering with the Resonator seem readily apparent: he was a narcissist of the highest order. Such a person would not readily conceded to having their consciousness - so very superior to others - destroyed. It is highly likely he toyed with the machine in order to preserve himself somehow, though why a third party would assist in this endeavor is still a mystery.
Given that, here are some possible outcomes of his tampering and corresponding evidence, if any:
Drusera and The Entity are one and the same, two sides of the same coin.
Drusera is supposedly a being of great power, yet has no power over transmutated enemies
The Entity easily undoes her work in the fourth Drusera mission, destroying the village
Drusera avoids transmutated enemies at all costs
"Caging" The Entity could merely be Drusera suppressing the dark side of herself (e.g. Nazrek)
Something "unusual" happens to Drusera's mind during her training
DATACUBE ENTRY
Drusera's training is proceeding incredibly well, and she has already grasped the most advanced disciplines in evocation seemingly without effort. It is almost as if she were born with the inherent knowledge, as if the six were somehow instructing her subconsciously. Of course, Vorion has told me that this is impossible given the technicalities of her creation. But still, I feel as if something… unusual is happening within her mind.
Drusera created The Entity, either on her own out of anger or via the manipulations of Nazrek's tampering, or some other reason; but is the creation and internal or external manifestation?
Drusera has caged The Entity apparently at great cost to herself. This could speak to guilt.
Something "unusual" happens to Drusera's mind during her training
A Caretaker scan for Scientists reveals that Drusera created something "terrible and vile"
While being raised by the Eldan, her childhood can not be categorized as nurturing, and she did express fits of anger
Elyona, her caretaker, is corrupted by The Entity; while this doesn't speak to the above hypothesis per se, it does suggest that the two are different beings
DATACUBE ENTRY
I do not wish to alarm the others, but I have begun to observe what I can only describe as… unusual behaviors in Drusera. I have been pushing her very hard in our most recent lessons, and I hope that these episodes are merely cerebral anomalies brought about by stress. I will keep these observations to myself for now. I would hate to burden the others with what I am hopeful will turn out to be baseless concerns.
Drusera was infused with the positive aspects of the six Eldan, while The Entity was infused with the negative aspects.
Drusera may only be infused with the essences of four of the Eldan

Batheir, Aviel, Ionis, and Jariel. Nazrek and possibly Zarkonis possibly make up the core of The Entity.
Nazrek had a huge ego, and potentially his "tampering" could have been an attempt to make his personality dominant within Drusera, yet Drusera doesn't appear to show those traits; on the other hand, The Entity does display some of his attributes.
DATACUBE ENTRY
My analysis of the scientific data collected during the creation of the Genesis Prime has brought to light a number of inconsistencies that are both subtle and disturbing. Although Drusera herself seems to be without obvious flaw, the data indicates that certain design parameters were adjusted without my knowledge, just before the initiation of the Protoplasmic Resonator. I am attempting to ascertain the possible ramifications of such an adjustment, but the variables involved are improbably complex.

I can only hope that this development will not have negative consequences.
The Entity existed before the Eldan and the first inhabitants of Nexus, but without a corporeal form. The device that created Drusera also gave it form. Vorion's apparent descent into madness when he was talking "to no one" in his labs could have been with The Entity.
The Caretaker reveals that Vorion is one of six responsible for the creation of The Strain, which The Entity has control over. Are The Strain and The Entity one and the same?
DATACUBE ENTRY

I have recently become concerned with Maker Vorion's state of mind. With the completion of these technological laboratories, he spends more and more of his time deep underground, whispering to himself about his technological creations and even more advanced future designs. He can often be found in this augmentation complex. On more than one occasion I have heard him speaking to the augmented subjects as if they were his pets.

DATACUBE ENTRY

I recently had a conversation with Watcher Ionis about what can only be described as Vorion's recent descent into madness. His obsession with his recent work is obviously his way of coping with my being chosen as one of the vessels for the Genesis Prime. Still, despite his mental instability, even I cannot find fault with his latest advances. But that is not for lack of trying! Can we truly trust such important work to an individual so clearly deranged?
What will become of Drusera?
Just for fun polls:
What happened to the Eldan?
Is the planet Nexus a living organism?